20 Ene

What sizes and formats of images to use in your social networks

This 2021 comes in strong with changes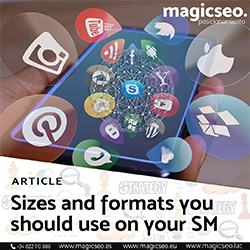 The profile of social networks is a very important aspect that must be taken care of, especially if it is a brand or a company, since it is the main way to communicate with the public.
Taking care of which photographs are used, which are the appropriate formats and maintaining a unification between them generates greater confidence and better impression to the user.
Changes in sizes and formats
This year the formal aspects of the images on the platforms will be modified. Therefore, we will review how they have to be.
Facebook
Profile photo: the measurements are 180×180 pixels for computer and 32×32 pixels for mobile version.
Cover photo: it will be shown with the measurements of 820×312 pixels for computer, and 640×360 pixels for mobile devices.
Event cover: the measurements will be 1920×1080 pixels.
Publication images: 1200×630 px. If it is the image that accompanies a shared link, the recommended size is 1200×628 px.
Instagram
Profile photo: the recommended size is 110×100 pixels
Square photo: 1080×1080 pixels is recommended, and the maximum size allowed is 2080×2080 pixels.
Portrait photo: 1350×1080 pixels
Horizontal photo: 1080×566 pixels.
Story size (photo): 1080×1920 pixels is the stipulated size.
Video size: In Instagram they should be max. 60 seconds long and 640×640 pixels in size.
Twitter
Profile photo: Must measure 400×400 pixels (or 200×200) and have a weight limit of 2MB.
Cover photo: 1500×500 pixels (or 1024×280) and a maximum image weight of 5MB.
Tweets with image: a minimum size of 600×335 pixels is recommended.
Tweets with link: 440×220 pixels.
LinkedIn
Profile photo: 400×400 pixels, with a minimum dimension of 130×130 pixels.
Profile header size: 1584×396 pixels.
Logo size: 300×300 pixels
Cover photo size for company pages: the recommended size is 1536×768 pixels
Company page banner: 646×220 pixels
Post image: 520×320 pixels
Post with link: In this case the images to be used must have 520×272 pixels.
These new features are necessary to use the appropriate images and thus obtain a profile in the networks well cared for, without errors and with quality of 10.