07 Jul

SEO 2021: Videos, FAQs and Voice Search

Adapt to trends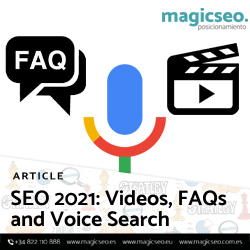 Search engine optimization is one of the most important aspects of any online business. Ranking as high as possible is crucial for success, which means carefully following algorithm changes and adapting content and keywords. When Google makes a change, or there is a change in online customers behavior, SEO continues. We do plenty of work with SEO on behalf of our clients and it gives us great insight into how it changes every time.
Context
As the past year has seen a massive boom in e-commerce, with more and more brands turning to Internet, the need to rank higher in search engines has increased even more. However, it's not just about the importance is optimizing pages for SEO, but paying attention to trends and what will work best with the algorithms for the coming year. So far this year, three trends have emerged that will have a big impact on SEO: video content, FAQs and voice search.
Video Content
Video contents has the huge advantage of being easy to view on mobile devices. As more and more people not only consume media, but shop and research products from tablets and smartphones, the value of content that can capture the attention of mobile viewers is extremely useful. The average social media user is much more likely to respond favorably to a short video discussing a product than to reading a paragraph of information, and studies show that 40% of users respond better to visual content than text.
So, with this increase in demand, brands search using more video content. Using videos in your own strategy is a good option, although it should not be done simply for the sake of having videos. Video content alone is not enough to drastically increase a company's SEO. On the contrary, not only should it be relevant to your industry and the page you are on to ensure high rankings, but it should also be relevant to your audience, especially something that might interest or educate them.
FAQs
Frequently asked questions pages, or FAQs, have started to play a more important role lately, as more and more consumers search the Internet. As mentioned, not only has online shopping increased, but also customers search knowing more about the product and service before purchasing it. An effective way to establish trust between the company and the customer, demonstrating that a brand is helpful and knowledgeable.
This means that optimizing these pages is extremely important, even more so when Google values websites that focus on providing users with information that educates their choice.
Voice Search
From smartphones with speech recognition technology to desktop computers, its use has become widespread. They offer convenience and accessibility. Smart speakers have become part of everyday life for many. And with the recent rise of e-commerce, they are being used more to search for products and shop online.
Many users tend to phrase their searches as questions, using natural language, which implies longer searches, most of them loner than at least seven words.
Making sure you stay on top of these SEO trends is extremely important, and could be the difference between being seen online or not.