07 Jul

Google's first physical store

Allows customers to play with their growing set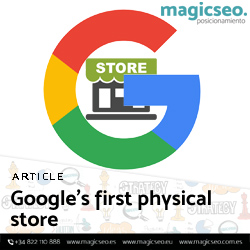 For the first time in Google's 22-year history, the tech giant has opened a physical store. Located at the base of the former Port Authority building, a massive Art Deco structure that also houses the company's New York headquarters, the 5,000-square-foot store will serve as a one-stop store for exploring Google's growing suite of consumer hardware, from Pixel phones and Nest smart home devices to Fitbit wearables.
Beyond a place to buy and repair devices, the store offers a host of immersive experiences for customers to see firsthand how Google envisions its technology fitting into everyday life.
Layout
One area mimics several rooms in a house equipped with Google hardware; "discovery boxes" lined up along the windows feature 3D animations that tell stories and little-known details about various Google products. In the back, "sandbox" areas allow customers to try out products for themselves. In the center of the store is a 5-meter-wide installation with giant LED screens that immerses visitors in artistic explorations of Google software such as Search and Maps.
In the inaugural Translate experience, customers can whisper phrases and listen to them in 24 languages while the text is displayed on a screen.
Ivy Ross, Google's vice president of hardware design, who also served as the project's creative director, opted for sustainable design details that forge a tranquil atmosphere. The veneer walls, for example, are made from responsibly sourced hickory.
Daniel Michalik designed the furniture with renewable materials, such as cork, that also emit a sense of warmth, an antidote to the antiseptic, pared-down minimalism often favored by Google's competitors.
"The space is designed to be a physical expression of what Google stands for", Ross tells Fast Company. "We wanted the space to continue the design principles that radiate from our product. Our philosophy is that technology should fit into our lives, not stand out. We want this space to feel human because we believe technology is a tool to amplify our possibilities as humans."
Ross worked closely with architect Suchi Reddy, founder of local firm Reddymade, to design the LEED Platinum-certified space. The two previously collaborated with Johns Hopkins University's Arts + Mind Lab on "A Space for Being," an exhibition during Milan Design Week 2019 on the nascent field of neuroaesthetics, which explores how design elements such as color and texture impact our biology.
It is unclear whether Google, which has long organized retail pop-ups, will expand its retail footprint to other cities. Unlike Apple, a hardware giant with more than 500 stores worldwide, the vast majority of Google's parent company Alphabet's revenue comes from digital ads, which generated $147 billion last year alone. Its other major competitor, Microsoft, permanently closed all of its stores during the pandemic. In any case, Google is probably testing the waters, as its foray into retail will serve as a testing ground for gaining valuable customer information and incorporating it into upcoming products.