09 Jul

Expand your business with Facebook Wi-Fi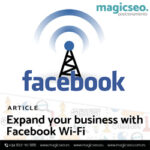 Reach more users with this tool
Facebook Wi-Fi allows your customers to leverage their Facebook credentials to sign up for your business or interact with your Facebook page to get access to free Wi-Fi on your premises. It's safe and easy to configure. Whether you run a small tea shop or a busy boutique, you know that reliable, fast and easy Wi-Fi is essential.
Ease access to your business
The easy and simple Facebook Wi-Fi configuration, allows your customers access a guest portal through Facebook and instantly obtain free Wi-Fi.
Gain information about your clients and business
Everyone uses Wi-Fi. Know the demographic data of who uses you business Wi-Fi. From peak hours to age group knowledge, you will be able to access to key information that will help you grow your business.
Gain more attention for your business
If your customers use Facebook Wi-Fi to connect, they're going to be able to interact with your business, look up ongoing promotions and like your Facebook page, this will help stand out your firm for other close customers or your customers friends.
How to set?
You need the right equipment: a Facebook Wi-Fi compatible router and a mobile phone. It doesn't take more than 20 minutes to get it ready. It's an easy task and doesn't require technical knowledge.
For it to work, you need a Facebook page for your business with a physical address in the information section,  and access as the admin.
Turn on Facebook Wi-Fi on the router setting following the instructions and the specific videos for your kind of router you can find at: https://www.facebook.com/facebook-wifi.
Link your Facebook page with Facebook Wi-Fi and define the setting. You will know that it's connected when a pop-up screen asking you to sign up and register a visit to your page in order to connect to the Wi-Fi net.